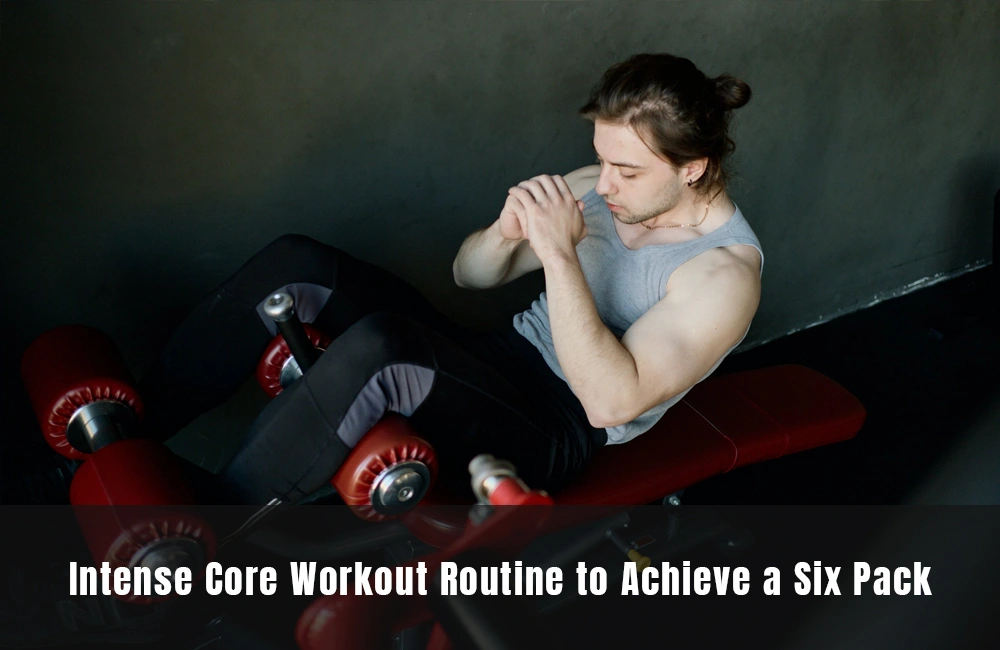 Intense Core Workout Routine to Achieve a Six Pack
Read Time:
11 Minute, 24 Second
Gym core workout
The gym core workout is a highly effective way to strengthen and tone your core muscles. The key to getting the most out of this type of workout is committing to it as part of an ongoing fitness regimen. It's not enough just to do a workout once or twice, no matter how busy you are. To enjoy the benefits over time, you should stick with a regular schedule of gym workouts that incorporate this particular routine.
As well as being a great lower-body exercise, squats also work your abs – especially the lower abdominal muscles known as the "transverse abdominis." When squatting, keep your back straight and don't let it arch backward – this will put stress on your lower back instead of engaging those deep transverse abs.
The gym core workout consists of a series of exercises that tone and strengthens your stomach muscles. If you're unable to do some of the moves, don't worry – just skip those and go on to the ones you can manage. None of them should cause pain or make you feel exhausted; if they do, stop immediately.
If you'd like to do more than one set, wait 30 seconds between each one so that your heart rate comes down again. Remember not to try to move quickly from one exercise right into another – take time for a quick water break before starting the next round.
After doing this workout two or three times a week for at least four weeks, you should start noticing improvement in your strength and stamina.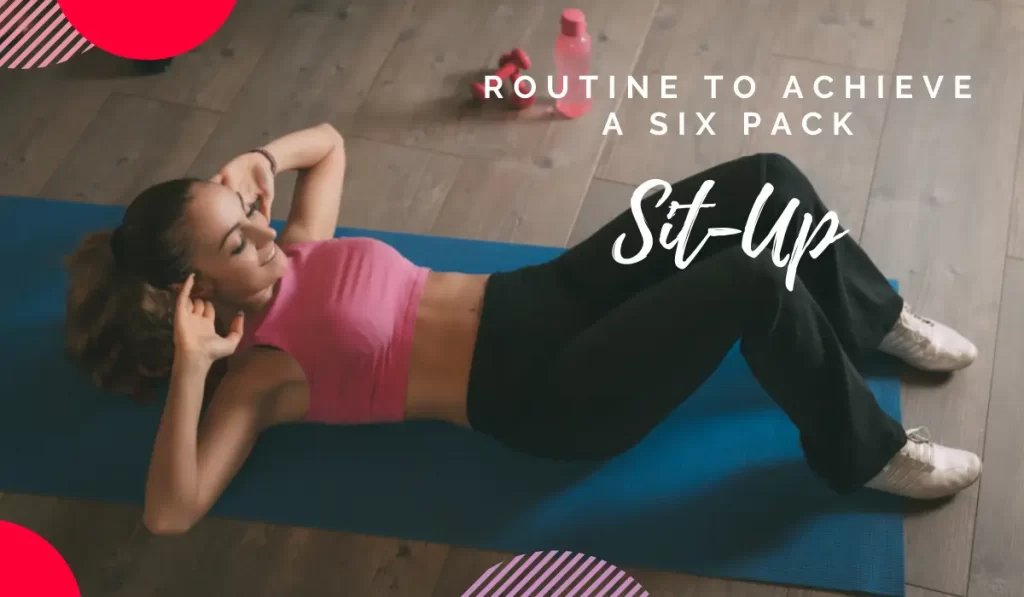 Gym core workout routine
Squat: With your back straight and abs engaged, lower into a squat position, keeping arms extended in front of you. Hold for 3-5 seconds before rising to start position. Repeat 10 times.
Plank: Place palms on the floor directly under shoulders and extend legs behind you so that only forearms and toes touch the floor – avoid allowing elbows to lock or hips to sag toward the ground at any point during this exercise. Keep abs engaged and hold the posture as still as possible for 30 seconds (or more if you can). Take a 10-second break, then repeat 1-3 more times.
Lateral Bound with Twist: Start in a low lunge with your right knee down and your left leg extended behind you. Rotate the torso to left and right, keeping abs engaged as much as possible, then bound forward so that both feet are together and arms are outstretched in front of you. Repeat 5 times on each side for a total of 10 reps.
Hip Lift: Lie faceup with legs bent at 90 degrees – place arms in a "T" position in front of the chest. Engage core and lift hips off the floor until body forms a straight line from head to heels. Hold for 3-5 seconds, then slowly lower back to the starting point. Repeat 10 times
Jackknife Sit-Up: Lie on your back with legs extended along the ground, foot flexed (so that toes are pointing toward you). Place hands behind head, elbows pointing toward feet. Engage core and curl torso until seated and then extend legs and arms simultaneously – reach out (without touching the floor) as far as you can with arms and legs extended. Repeat 10 times.
Single Arm Row: Start in a high plank position with one palm down beneath shoulders, other arm extended in front of the body with elbow bent. Pulling shoulder blades together, pull that arm toward the opposite hip; hold for one second before lowering back down to start position. Repeat 10 times, then switch arms.
Side Plank to Side Twist: Lie on the left side bring the top foot forward slightly so you are resting on your left forearm and hip directly underneath your chest – engage core throughout this exercise to prevent the lower back from sagging. Rotate right arm up and over, twisting torso while simultaneously lifting right hip off the floor; hold for 3-5 seconds before returning to start position. Repeat 10 times on each side (for a total of 20 reps).
Single Leg Deadlift with Oblique Twist: Stand with feet hip-width apart, arms bent at 90 degrees in front of you. Keeping back straight and abs engaged, lift right leg off the floor then lean torso forward toward extended leg as far as possible (without touching it). Hold for 3 seconds before returning to start position; repeat 10 times on each side (20 total).
Ab Crunch: Lie faceup with knees bent and hands behind head; place chin slightly down towards the chest. Engage core and curl upper body forward until shoulders are off the ground – hold for 3-5 seconds before lowering back down to start position. Repeat 10 times.
Head Lift/Knee Tuck: Lie faceup with legs bent at 90 degrees directly above hips and arms at sides with palms on the floor. Engage abs and curl head and shoulders up while simultaneously lifting feet off the ground; hold for 3-5 seconds before returning to start position. Repeat 10 times.
Sit-Up: Lie face down on a mat with legs extended overhead, chin tucked into chest, hands gripping under thighs for support (optional). Curl upper body forward towards feet by engaging the core and pushing off of heels until torso is perpendicular to legs – hold for 3-5 seconds before lowering back down to starting point. Repeat 10 times.
Side Plank: Lie on the left side with elbow directly beneath shoulder and forearm alongside of the body (slightly in front of hip); place the right leg on top of left with right foot flexed (toes pointing up). Brace core and lift hips off the floor; hold for 3-5 seconds before returning to start position. Repeat 10 times on each side (for a total of 20 reps)
Russian Twist: Sit on the mat with knees bent 90 degrees directly over hips, arms extended in front of you at shoulder height (hands can be clasped together if this is too difficult). Engage abs and twist torso from side to side, keeping the chin tucked into the chest. Repeat 10 times.
Stability Ball Crunch: Lie faceup on the ball with lower back pressed into it; keep feet planted firmly on the floor about hip-width apart so body forms a 45-degree angle with mat. Place hands behind head and lift feet slightly off the ground, engaging core to protect the lower back. Crunch up until shoulders are off the ground, pause for a moment before lowering back down to start position. Repeat 10 times. As you become stronger, add intensity by doing this exercise holding a weight plate across the chest or clasping weights in your hands.
Bicycle Crunch: Lie on the mat face up with knees bent and hands behind head; keep the chin tucked into the chest throughout the movement. Bring right elbow towards the left knee as you extend opposite leg out straight – make sure that opposing leg does not touch the floor during the crunch (alternate sides after every rep). Continue alternating for the desired number of reps/time period (for example 30 seconds).
See also "The Rock" Arm Workout: Working Out Is Not All About the Weights but the Reps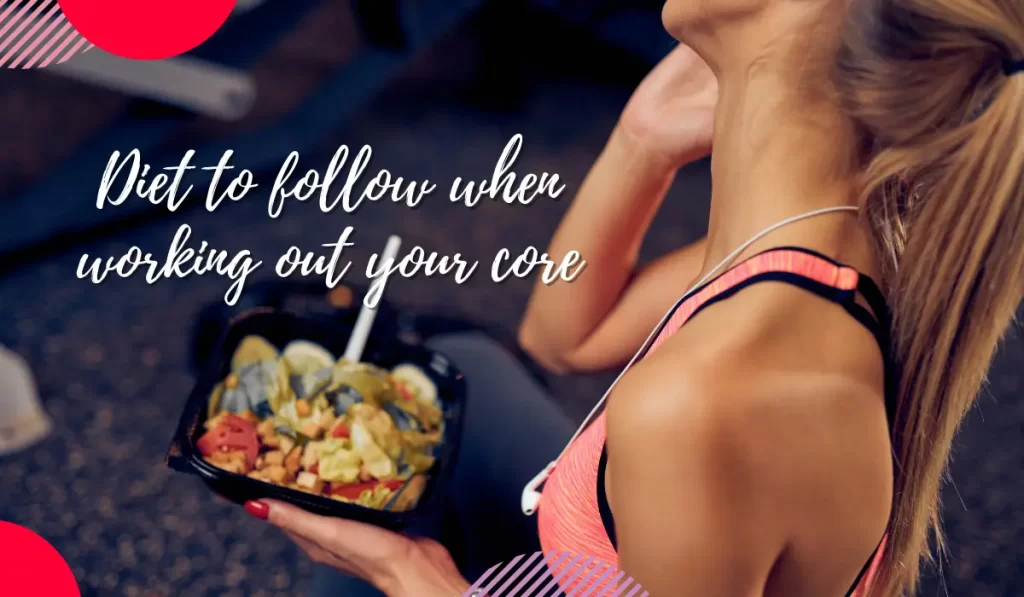 Diet to follow when working out your core
Eat five times a day (three meals and two snacks) to keep your body fueled, give it energy, and prevent you from feeling famished. Have protein at every meal; the amino acids help build muscle mass—a key factor in weight loss. The protein will also help keep you fuller for longer. Aim to eat 0.6 grams of protein for every pound of your body weight (if you weigh 140 pounds, that's 84 grams of protein). Some good sources include chicken, tuna, eggs, cottage cheese, and Greek yogurt. Don't forget healthy fats! Add a serving of omega-3 fatty acids most days of the week with fish such as salmon or halibut or by taking a daily supplement containing 2 – 4 grams of the essential fatty acids (EFAs). A serving of healthy fats such as mixed nuts or 1/4 cup of peanuts, which contain about 2 grams of fat per ounce, round out a snack. A handful will do you — and give you some heart-healthy unsaturated fat and fiber. Eat your carbs in the form of whole grains like quinoa, brown rice and whole wheat bread to get more fiber and stay full longer. And always include veggies with meals!
What muscles are used in core workouts
Back, abs, entire hip flexor area (rectus femoris), the transversus abdominis muscle wraps around to the front of your body and down to your waist, but it's often ignored because it doesn't cause a big rise in lactic acid. If you want an incredible six-pack, work on this muscle! You can do so by performing exercises like Swiss ball crunches (which target rectus abdominis) and hanging leg raises (which target lower rectus abdominis). And if you're looking for further ways to increase core strength, try doing one-legged exercises like one-legged deadlifts or one-legged straight-leg deadlifts. The left oblique originates at the inner half of the left iliac crest. The right oblique originates at the inner half of the right iliac crest, which is also where its tendon turns into the inguinal ligament that runs along the brim of your pelvis to your pubis.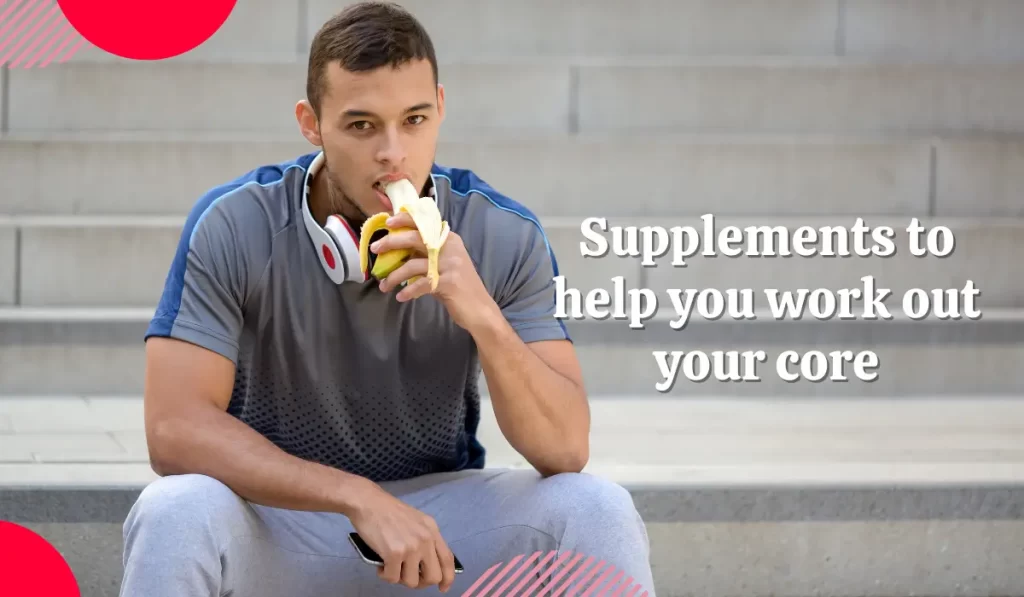 Supplements to help you work out your core
Before starting a new fitness regimen or diet plan, check with your doctor to make sure it's safe for you. Working out the core may require a few specific supplements if you don't get them naturally from food. Potassium is necessary for proper muscle function and avoiding cramps; try eating bananas before your next workout session or popping an effervescent tablet of potassium citrate like Core Power (which also has magnesium). Calcium builds strong bones and helps prevent osteoporosis; consider taking calcium citrate with vitamin D3. And be aware that some people need more iron than others do (between 8-18 mg per day), especially women who lose blood during their period. If this sounds like you, try adding spinach, beans, edamame, or soybeans to your diet.
Tips when working out your core
The muscles of the hip are some of the largest and strongest in the body. They are placed on an incline when performing leg raises, so they have to work harder than many other abdominal exercises that place the hips on a flat surface. This is why incorporating hanging leg raises into your core workout four times a week will give you more efficient ab toning results than crunches alone. Also, try new techniques like moving your legs up and down instead of just straight out to make sure all muscle fibers are being used during each rep.
FAQ
Can a beginner get a six-pack?
In order to have a chiseled six-pack, you need to follow a strict diet and exercise plan. If you're just starting out, your abs might not be visible yet which is why it's important that you start working out hard now so they can develop as much as possible by the time you're finished with your fitness routines. The best way to get a six-pack is through cardio workouts like running and biking along with weight lifting such as squats for lower body strength and lunges for total body strength training. However, it isn't advisable to perform sit-ups or crunches because these ab exercises place pressure on your back which can cause injury if done improperly.
How long does it take the average person to get a six-pack?
If you work out regularly and create a calorie deficit so you burn more than you eat, it might take about one year to see results. It all depends on your starting point. If your weight is higher, then it'll take a little longer for the six-pack to be noticeable because there's more fat surrounding the abs that need toning. However, if you're already close to your ideal body weight but want a chiseled stomach, follow an intense ab workout plan four times a week with cardio workouts three to five times per week as well as strength training twice a week.
How do I get rid of love handles?
To get rid of those annoying love handles, try High-Intensity Interval Training (HIIT) workouts for no longer than 20 minutes 2-3 times a week. These exercises will burn off your love handles as well as flatten your stomach and tone your obliques. There are many HIIT workouts that only require bodyweight such as running, walking, or stair climbing at interval speeds. Just pick the one you like the best and perform it for 20 to 30 minutes with a 10-second rest in between each minute of exercise and aim to reach about 300 total reps per workout session.
How often should I work out my abs?
Every day! Well, not exactly but if you want to see fast results, try doing ab workouts six days a week (if needed, spread them throughout the day). With cardiovascular training and strength training, you should be doing some sort of ab workout every day so your abs get a chance to rest and rebuild. If you really want to see the results of every ab exercise, try new ones every day instead of sticking with the same exercises because your core muscles will keep adapting and building if they're constantly being challenged by new movements.
See also The Most Effective Workouts for Losing Unwanted Armpit Fat