SPA SERVICES
AMAZING RESULTS
NO MEMBERSHIP REQUIRED
CUSTOM AIRBRUSH SPRAY TANNING
Tanning appointments 7 days a week
All Natural Sun Kissed Look
Skin Tightening & Toning Treatments
There is nothing quite like the golden bronzed glow of perfect tanned skin. If you have ever found yourself wishing that you could maintain this look throughout the year, and not just over the summer months, you're in luck. With our airbrush spray tanning, you can achieve that healthy tan all year round. Airbrush tanning is an effective alternative to UV light-based tanning and is perfect for those who are concerned about exposure to UV light.
If you're looking to give yourself a natural-looking tan without having to spend hours out in the sun, come down to the Iron Fit Gym and give our airbrush spray tan a try. It offers a number of benefits over other methods.
QUICK RESULTS
Is today's world, who among us can really afford the luxury of lying on a sandy beach until they develop the perfect tan? Our modern world is fast-paced and constantly demands more and more of our time. What we need is a tanning method that is fast, effective, and available to anyone.
Our airbrush spray tanning is the fastest way to a gorgeous looking tan by far. Not only does developing a tan in the sun take a long time, but when tan begins to fade, it will take just as long to restore it to its former glory. With airbrush tanning, you can have the perfect tan in a matter of minutes. You can walk into Iron Fit Gym on a winter's morning and come out with a natural looking tan before lunchtime.
A NATURAL LOOK
Some people are still under the misapprehension that you need to tan in the sun in order to achieve a truly natural look. This is not true at all! When applied properly, an airbrush tan can look every bit as natural and as beautiful as an all-natural suntan.
Even better, an airbrush spray tan can be used to achieve any kind of tanned look that you want. Whether you're after a light tint or a deep bronzing, we can provide you with the perfect tone.
PROFESSIONAL APPLICATION
We at Iron Fit understand that when you submit yourself to an airbrush tanning, you are placing your faith in us and our team. We appreciate the seriousness of that trust and the work we do will determine how you are perceived when you walk out the door. That's why we always emphasize the importance of customer satisfaction.
If you want us to incorporate tan lines, we can do so! Similarly, if you want the full-body treatment, we are happy to help you there as well. Once you have decided what you want and told our technicians, you can lie back and relax, safe in the knowledge that we will follow your requests.
A customer airbrush spray tanning is the perfect way of achieving a gorgeous, healthy glow at any time of year. We guarantee customer satisfaction every time, and our professionals will do whatever it takes to send you away with the perfect tan. Drop into Iron Fit today and see what we can do for you.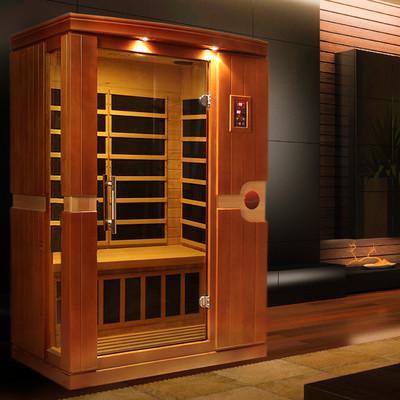 INFRARED SAUNA
Iron Fit Gym offers 30 minutes sessions in our private Infrared Sauna! Book an appointment today and experience all these Infrared Sauna Health Benefits!
Detoxification
Relaxation
Lower Blood Pressure
Anti-Aging & Skin Purification
Pain Relief
Weight Loss
Improved Circulation
Cell Health
Wound Healing
PRICING
$25 for one 30 minute session
$100 for five 30 minute sessions
Science is a truly wonderful thing. The worlds of beauty, cosmetics, and fitness are all intimately tied to the world of science. Without new knowledge and technologies, we wouldn't have nearly as many methods at our disposal for achieving the dream look of our clientele. People come to the Iron Fit Gym for all sorts of reasons. Not only do we offer the usual array of gym equipment but features like our infrared sauna set us apart from the rest of the competition.
WHAT IS AN INFRARED SAUNA?
An infrared sauna is exactly what it sounds like. It is a sauna, but one that makes use of infrared light rather than coals or fire to create steam. By using nothing but light itself to warm the body, our infrared sauna is able to offer a very different experience to what you're probably used to.
By making this simple change to the method of heating, an infrared sauna is able to produce similar effects to a regular sauna, but with a number of added health benefits. This difference arises because an infrared sauna only heats you and not the air around you.
DETOXIFICATION
By heating the body and encouraging us to sweat, our infrared sauna has a detoxifying effect on your body. If you have ever experienced a sauna before, you will be familiar with the feeling of cleanliness and relaxation that washes over you when you get out. Our infrared sauna offers the same detoxifying properties.
RELAXATION
Aside from the health benefits, the attraction of a sauna session for most people lies in its ability to relax us quite unlike anything else. If you have experienced a sauna before, you will already understand this effect. For those who are new to this territory, however, take it from us, there are few things in this world quite as relaxing. Spending a session in our infrared sauna will leave you feeling like a Zen master post-meditation!
LOWER BLOOD PRESSURE
When we become relaxed, we become less stressed. This relaxation has a number of physical manifestations, one of which is a drop in our resting blood pressure. By heading to our infrared sauna at Iron Fit Gym once a week, or even more often if you feel like it, you can reduce your blood pressure in the long term, not just for the duration of your session.
ANTI-AGING
The way that our infrared sauna heats the skin gives it some potent anti-aging properties. This is one of the reasons that many people prefer infrared saunas to regular saunas – the anti-aging effect is much more pronounced.